RadalyX - robotic imaging system
Radalytica is currently the only provider of robotic imaging systems for non-destructive testing. Thanks to a team of experts, Radalytica is a company that covers both research and development.

Radalytica has developed the unique robotic imaging system "RadalyX", which, thanks to a combination of state-of-the-art imaging sensors and robots, is able to significantly expand and improve the applicability of imaging methods to a wider portfolio of objects in both industry and science. Thanks to the use of robots and a unique combination of imaging methods and X-ray imaging of the new generation, RadalyX is becoming a very powerful tool for non-destructive inspection even in areas where inspections were not possible or only limited.

Our services are based on state-of-the-art imaging technologies such as air-coupled ultrasound, photon counting X-ray imaging detectors, computed tomography and more to improve client's quality control. It has a wide range of applications, all at micrometric level in 2D or even 3D image.
Imaging services
The technologies used together with RadalyX are also provided as a service without the need to acquire your own robotic imaging system. The mobility and flexibility of RadalyX, we are able to provide one-off services with the help of our experts directly in the desired location. These services include professional scanning and operation of the robotic imaging system, detailed evaluation and interpretation of results to improve your manufacturing or research and development processes.
If you are interested in measurement of some sample, please fulfill the questionnaire here and our imaging specialists will contact you back as soon as possible.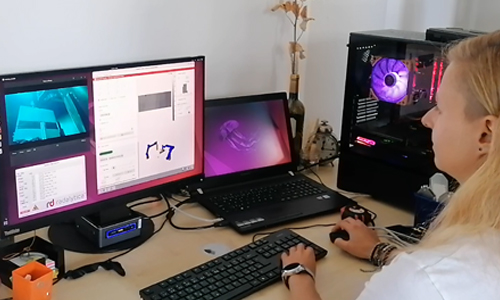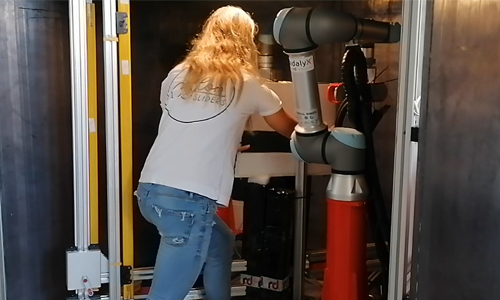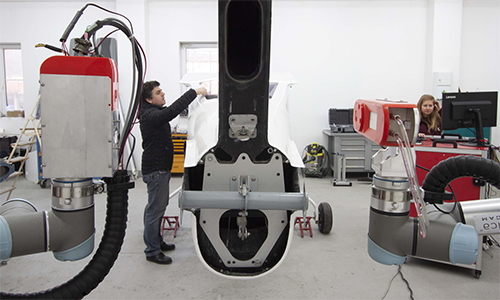 Collaborations

Manufacturer of semiconductor sensors, micro packaging and radiation imaging cameras. Development of imaging solutions for industrial and academic needs.

Revolutionising the art world with next-generation x-ray imaging technology previously available only at the cutting-edge of particle physics research.

Design of single-purpose machines for industrial production, assembly workplaces, precision jigs and entire work units, including their automation and implementation of camera systems.

Supplier of solutions in the field of ultrasonic measuring technologies. Manufacture of sensors and devices for applications in various industries.

Universal Robots collaborative robot arms are used to boost performance and add value in countless industries every day.

The products consist of code readers, laser markers, machine vision systems, measuring systems, microscopes, sensors, and static eliminators.